New research centre to examine work disability policy in Canada
February 4 marks the official launch of the Centre for Research on Work Disability Policy (CRWDP). Headed by two senior scientists from the Institute for Work & Health (IWH), CRWDP will sponsor research on how policies and programs in Canada can better support people with disabilities in the labour market.
IWH study finds higher mortality rates among people out of work in early 1990s
A follow-up study of 1.6 million Canadians found those unemployed in 1991 were at higher risk of dying within the next 10 years. This was the case for all causes of death, from cancer and heart disease to accidents and violence.
IWH to co-host work disability prevention conference in Toronto this fall
IWH is one of four Canadian organizations hosting Work Disability Prevention and Integration 2014, the third international scientific conference on preventing work disability and promoting safe and sustained return to work across a range of conditions. WDPI takes place September 29 to October 1 in Toronto.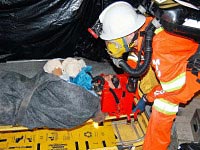 photo: Workplace Safety North
IWH president named to provincial mining review panel
As part of a comprehensive review announced in December 2013 to improve the health and well-being of workers in Ontario's mining sector, the province's Chief Prevention Officer George Gritziotis asked IWH President Dr. Cameron Mustard to join an advisory panel of health and safety experts.
Introducing IWH News, our new and improved monthly e-alert
Welcome to the first edition of IWH News. Our new monthly e-alert, replacing our former quarterly alert, will keep you up to date on Institute news, research findings, products and events. Please forward IWH News to your colleagues who may also be interested in receiving our work injury and disability prevention information.
For more information, please contact
Uyen Vu
Communications Associate
416-927-2027, ext. 2176
uvu@iwh.on.ca
Our records show that you requested to receive our e-alerts.
E-mail us to stop receiving IWH News or to stop all contact from IWH.
IWH News is distributed monthly by the Institute for Work & Health, an independent, not-for-profit organization that conducts and shares research to protect and improve the health and safety of working people.
Did someone forward this e-mail to you? Subscribe now to receive your own copy.
481 University Avenue, Suite 800, Toronto, ON M5G 2E9 CANADA
t: 416-927-2027 f: 416-927-4167 info@iwh.on.ca