Evidence suggests packages of different types of interventions improve RTW success
Effective workplace programs to help injured and ill workers return to their jobs are multi-faceted. They offer some combination of health services, return-to-work (RTW) coordination and work modifications. That's according to a recent systematic review update conducted by the Institute for Work & Health (IWH) and the Institute for Safety, Compensation and Recovery Research (ISCRR). It also finds work-related cognitive behavioural therapy improves RTW for workers with mental health conditions.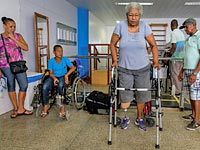 ©WHO/Edouardo Martino
IWH research team plays key role in new rehabilitation guidelines from WHO
Strengthening rehabilitation services is becoming a key challenge to health systems around the world, according to the World Health Organization (WHO). Last month, the global body released new guidelines encouraging countries to ramp up their rehabilitation services to ensure people with health conditions function at their best. The guidelines are evidence-based—and that is where IWH comes in. Institute Scientist Dr. Andrea Furlan led a team that provided the research evidence behind five of the nine recommendations in the new WHO guidelines.
Research on prognostic factors for RTW used in WSIB case management model
In the early 2000s, an IWH study of 900 injured workers in Ontario probed for the factors that predict the duration of disability. It found four factors—measures of functional status, worker recovery expectations, changes in pain severity over time, and workplace offers of modified work—were strongly prognostic. That information has been incorporated by the Workplace Safety and Insurance Board (WSIB) into its case management practices, as told by a new impact case study.
Work limitation differences in men and women linked to chronic conditions
How are men and women different when it comes to the impact of health issues on work limitations? A new Research Highlight sums up the findings of a study published in the Journal of Occupational and Environmental Medicine. The study examines work activity limitations in men and women, and the role of chronic conditions and physical job demands.
Concussion, pesticides, whole-body vibration: Examining the work risks of Parkinson's
Do we know enough about the work-related risk factors for Parkinson's disease to put in place prevention programs? In a recent IWH plenary, Ryerson University's Dr. Anne Harris shared her study looking at possible work-related risk factors for this degenerative disease of the central nervous system. The presentation, which examined the evidence on risk factors such as pesticides, concussion and whole-body vibration, is now available as a slidecast.
Safe patient/client handling webinars from CRE-MSD in collaboration with PSHSA
To support the practice of safe patient/client handling in the health-care sector, the Centre of Research Expertise for the Prevention of Musculoskeletal Disorders (CRE-MSD), in collaboration with the Public Services Health & Safety Association (PSHSA), is offering a series of free webinars. These events are held as part of the activities of a community of practice on client/patient handling, which brings together diverse stakeholders—researchers, ergonomists, managers and front-line workers—to share current research, training and practices that reduce MSDs.
Save the date: Conference on carcinogens in mining to be held in Sudbury, July 10-11
The Occupational Cancer Research Centre (OCRC), the Mining Innovation, Rehabilitation and Applied Research Corporation (MIRARCO) and Laurentian University are hosting a conference on the impact of exposure to carcinogens in the Ontario mining industry—and how these exposures can be controlled. The conference, to be held in Sudbury, Ont., on July 10-11, will focus on diesel exhaust and radon, as well as other carcinogens. Check the link below for details closer to the date.
For more information, please contact
IWH News is distributed monthly by the Institute for Work & Health, an independent, not-for-profit organization that conducts and shares research to protect and improve the health and safety of working people.
Did someone forward this e-mail to you? Subscribe now to receive your own copy.
481 University Avenue, Suite 800, Toronto, ON M5G 2E9 CANADA
t: 416-927-2027 f: 416-927-4167 info@iwh.on.ca