On RSI Day, access your eOfficeErgo training in French
February 28 is International Repetitive Strain Injury (RSI) Awareness Day. To help your workplace raise awareness about safe and healthy workstation practices, the Institute for Work & Health (IWH) brings you eOfficeErgo, an evidence-based and standard-compliant online ergonomics training program designed for people who regularly use computers on the job. And on RSI Day, this free e-learning program will also be available in French, thanks to the support of l'Association paritaire pour la santé et la sécurité du travail du secteur affaires sociales (ASSTSAS).
Demand seen for safety culture and systems audit tool, created with IWH's support
In response to a government mining safety review, the health and safety association Workplace Safety North (WSN) teamed up with the Ontario Mining Association and IWH to produce the Internal Responsibility System Culture Assessment and Audit Tool (IRS CAAT). Designed to measure "two sides of the coin"—both safety culture and systems at organizations—the tool is now in demand beyond Ontario's mining sector for which it was developed. The WSN project lead credits IWH's analytical and tool development expertise for helping create a measure that users can trust. Read about this work in a new impact case study.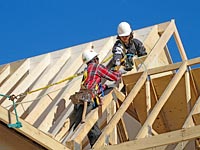 photo: IHSA
IWH Speaker Series: Evaluating the effectiveness of Ontario's working-at-heights training standards
Serious injuries and fatalities resulting from falls from heights are a major concern in construction work. In 2015, Ontario's Ministry of Labour implemented regulations defining working-at-heights training program standards and establishing a program for approving training providers in the province. In an IWH Speaker Series presentation on February 26, Scientist Dr. Lynda Robson shares findings from a study examining the reach and effectiveness of this training initiative.
Better disease, exposure surveillance key to progress on occupational disease prevention: Nachemson lecturer
For every person who dies from a work-related traumatic injury, at least six people die from an occupational disease. Fittingly, preventing the work exposures behind these diseases is a priority in many jurisdictions, including Ontario. But to push forward on this agenda, we need to build up our disease and exposure surveillance systems, Dr. Paul Demers noted in his remarks last November at the 2018 annual Alf Nachemson Memorial Lecture, hosted by IWH. Demers, director of the Occupational Cancer Research Centre (OCRC), was recently named by the Ontario Minister of Labour to lead a review of the scientific evidence on the role of workplace exposures in causing cancers among Ontario workers, an appointment that IWH applauds. His Nachemson lecture is now available as a slidecast.
IWH study measures changes in job security, co-worker support over 10 years
How have psychosocial work conditions changed in Canada over a 10-year time frame? Data from Statistics Canada surveys suggest a slight improvement, as IWH Syme fellow Jonathan Fan wrote in an article in Canadian Journal of Public Health. However, Fan and others on the IWH research team are cautious in their interpretations.
Improving the health and safety of truck drivers: CRE-MSD webinar
From six-lane highways to logging roads and pot-holed city streets, truck drivers can work in challenging environments. At noon on February 26, the Centre of Research Expertise for the Prevention of Musculoskeletal Disorders (CRE-MSD) offers a free webinar on recommendations for improving the health and safety of truck drivers. The presentation covers a range of topics including whole body vibration, fatigue and overall health and wellness.
Find World Cancer Day and diesel exhaust prevention resources from OCRC
Occupational cancer is a significant burden on society and individuals, yet it is almost entirely preventable. For World Cancer Day earlier this week (February 4), OCRC pulled together resources to help raise awareness, mobilize action and inspire change—particularly with respect to diesel exhaust, a priority target in Ontario's Occupational Disease Action Plan.
For more information, please contact
IWH News is distributed monthly by the Institute for Work & Health, an independent, not-for-profit organization that conducts and shares research to protect and improve the health and safety of working people.
Did someone forward this e-mail to you? Subscribe now to receive your own copy.
481 University Avenue, Suite 800, Toronto, ON M5G 2E9 CANADA
t: 416-927-2027 f: 416-927-4167 info@iwh.on.ca