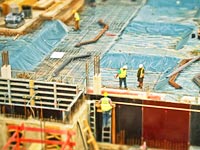 IWH's leading indicators helping Manitoba workplaces assess safety culture
The Institute for Work & Health (IWH)'s leading indicator tool—the popular Organizational Performance Metric (IWH-OPM)—has been adapted for use in Manitoba as part of a province-wide safety culture initiative. IWH Senior Scientist Dr. Ben Amick worked with SAFE Work Manitoba on many aspects of the initiative, including a definition of "safety culture" for the province, the development of a workplace-based safety culture assessment tool, and the development of frameworks for evaluating safety certification and safety culture in the province overall. The workplace-based tool, called the Safety Culture Assessment (SCA), is being offered to workplaces to help them understand and improve their safety culture. Moreover, it is also being incorporated into the province's SAFE Work Certified program to assess whether safety certification helps improve a workplace's safety and health management system in reducing the risk of injury and illness.
OHS Vulnerability Measure worker survey now available in French
IWH's OHS Vulnerability Measure defines vulnerability to work-related injuries and illnesses as a combination of hazard exposure and insufficient protection due to inadequate policies and practices, low awareness of occupational health and safety (OHS) risks and/or lack of empowerment. Now, thanks to the support of WorkSafeNB, the 27-item worker health and safety survey at the heart of the tool is available in French—as is a new video about what the tool does.
Find and share MSD prevention research and resources this October
The new season of IWH plenaries is in full swing. This month, we have two IWH research presentations that are sure to get people talking. On November 7, Dr. Aviroop Biswas taps into a recent study to discuss whether workplace health facilities and wellness programs at work encourage employees to exercise more. On November 28, Dr. Ron Saunders and colleagues share how gaps in essential skills (e.g. literacy, numeracy) can be addressed in OHS training. And in between the two, on November 21, external presenter Dr. Ron House of St. Michael's Hospital shares his research on the health effects of hand-held vibration tools.
CRE-MSD webinar: prevent slips and falls by selecting the best work boots money can buy
What makes one pair of work boots better than another for preventing slips and falls on snow and ice? (Hint: it's not all in the treads as advertisers would lead you to think.) No accepted standard currently exists for evaluating the slip resistance of footwear on ice and snow. However, researchers at the Toronto Rehabilitation Institute (TRI) have developed a slip resistance footwear test. In a free webinar hosted by the Centre of Research Expertise for the Prevention of Musculoskeletal Disorders (CRE-MSD) on November 15, Dr. Tilak Dutta introduces the test, which measures the steepest snow- and ice-covered incline study participants can walk on without slipping.
For more information, please contact
IWH News is distributed monthly by the Institute for Work & Health, an independent, not-for-profit organization that conducts and shares research to protect and improve the health and safety of working people.
Did someone forward this e-mail to you? Subscribe now to receive your own copy.
481 University Avenue, Suite 800, Toronto, ON M5G 2E9 CANADA
t: 416-927-2027 f: 416-927-4167 info@iwh.on.ca